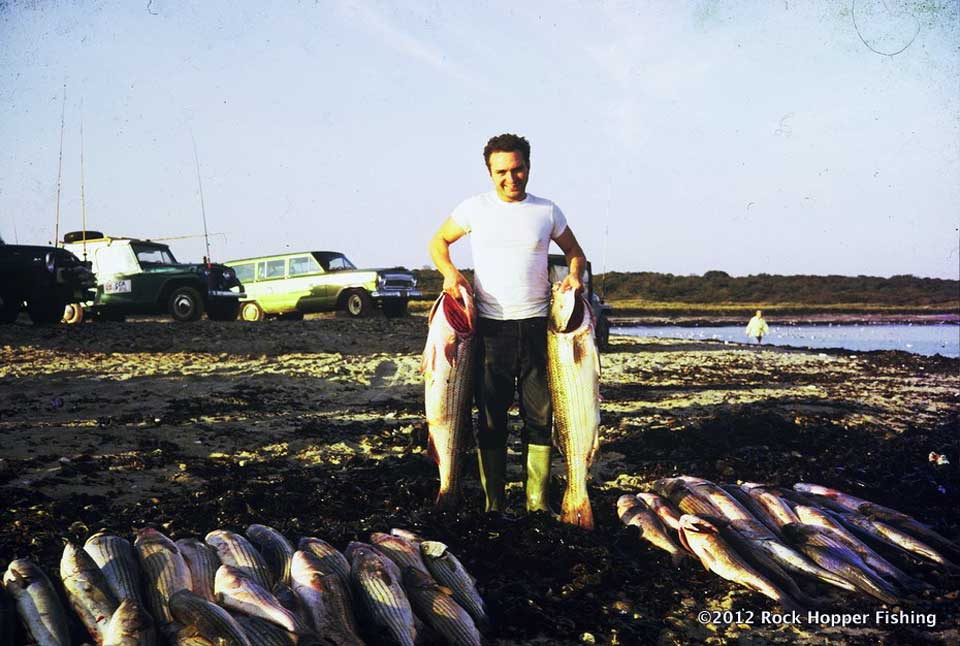 September 16, 1972
Picture taken on North Bar, Montauk
It was a full moon, incoming tide under the lighthouse
My friend Greg and I caught 41 striped bass weighing 826 lbs. The largest was 42.5lbs. The fish in my right hand was 40 lbs.
We were just two guys on one rock catching all these fish and we never got tangled once. The light house was different we just put them up in the rocks. Man, it was a pile of fish.
They were all caught on gibbs yellow darters and white and yellow bottle plugs.
Back then, keeping and selling fish was a common practice. You didn't need a license and that's what we did. Not a single fish went to waste. After this picture was taken I drove back to my sign shop in Brooklyn to work. I got there and said to myself, "What the hell am i doing?" I couldn't think about work, just fishing. So I drove home, picked up my wife and daughter and we drove right back out to Montauk. I went back under the lighthouse and caught 350 lbs. more. I started fishing on the 16th, it was a Wednesday night and I just kept fishing until I finally slept on friday morning.